Couple in their 30s get Help to Pay Down Their Hefty $375,000 Mortgage ASAP
Situation:

Couple in Northwest Territories wants to plan costs for a move south and retire
Solution:

Work with what's known, estimate savings for education, new home and retirement
In a corner of the Northwest Territories, a couple we'll call Mark, 37, and Ilsa, 31, are raising their one-year-old son on combined salaries of $11,100 a month. That should be ample, but life is expensive in the far north. Mark has a defined-benefit pension. They are competent investors as well, but they have a strong desire to give up living in the land of the midnight sun and move south. The question is: Can they afford to make the move given their hefty $375,000 mortgage?
The move is distant. They may postpone moving until 2022, six years from now. They expect some help from their savings and from substantial pension credits in their employment accounts. The north has been good to Mark and Ilsa. They are planning their move to the very different economy of southern Canada with deliberation and care. Mark figures he might give up his present career in a technical niche of government service and go back to school to learn a trade. If that does not work out, his backup strategy is to stay put and try for a job with the territorial government.

Family Finance asked Derek Moran, head of Smarter Financial Planning Ltd. in Kelowna, B.C., to work with Mark and Ilsa. His view: "They are in good shape for family life and a prosperous future, but at their age and with new lives in the south, planning is a challenge."
Mark and Ilsa have $1,139,900 in combined assets and $375,000 — the mortgage on their $525,000 house — in liabilities. Their net worth is $764,900, which is substantial for their ages.
The transition to life in the south will be costly. They will have to shop in what could be a very expensive housing market, depending on where they land. To make the move easier, they should pay off their mortgage as soon as possible, Moran says.
Their mortgage has a 2.69 per cent interest rate and allows a 20 per cent annual prepayment. If they apply $54,000 of their current cash to pay down the mortgage to $321,000, they will save $41,394 of interest. The capital value of Ilsa's pension from her employer, if she quits now to be a stay-at-home mom, is $70,000 and the net amount could be applied to the mortgage as well. That would leave the mortgage with about $251,000 due. The $70,000 pre-payment will save a further $34,750 of interest and four years and 10 months of amortization.
What's left on the mortgage could be paid down with $158,000 of the couple's portfolio of taxable investments. If they sell the investments, a collection of well known and respected mutual funds, they would save interest at 2.69 per cent that has to be paid out of after-tax dollars. The assets might do better or worse. However, if the stocks are sold, the remaining balance of the mortgage would be just $93,000. There might be capital gains tax to pay if the funds are sold. However, they could replace the investments with a loan secured against their house and then deduct the interest they pay for the loan. The financial assets plus the sale price of their house would be their nest egg in southern Canada.
Managing Financial Assets
Mark will be eligible for a pension at age 42. The formula is 42 per cent of his present $98,600 salary or $41,400 a year. There is a $4,000 annual bridge to 65, pushing the value to $45,400. If inflation reduces the purchasing power of the pension and bridge by three per cent a year from age 42 to age 60, during which there is no indexation (indexation starts only when payments begin), the value will, in effect, drop to $28,440. If inflation runs at two per cent, the pension would have the buying power of $33,900 in 2016 dollars. We'll use the $28,440 figure for planning purposes.
The couple's tax-free savings accounts have a balance of $86,500. If Mark and Ilsa each add $5,500 a year for 23 years to his age 60, the balance would become $538,400. If that money were paid out over the next 36 years to Ilsa's age 90 with the capital still earning three per cent after inflation, it would support annual tax-free distributions of $24,600 a year.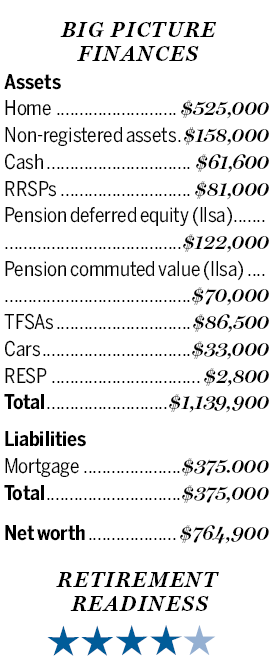 The couple's RRSPs, including a potential $122,000 that would be paid to Ilsa in a termination package, but would then be locked into a plan until her age 60, will total $203,000. If Mark and Ilsa continue to add $6,624 in total a year for the next 23 years, it will become $622,000. If that sum is paid out over the following 36 years to Ilsa's age 90, it would generate a taxable income flow of $28,500 a year.
Mark will qualify for full Canada Pension Plan benefits of $13,110 a year at present maximum rates. Ilsa, who plans to leave the labour force, will get about 75 per cent of the maximum, which works out to $9,832 a year. Both will get full Old Age Security at age 65, $6,846 at 2016 rates.
Adding up the couple's retirement income at 60, they would have the inflation–reduced value of Mark's pension plus bridge, to $28,440, TFSA income of $24,600 and RRSP income of $28,500 for total pre-tax income to age 65 of $81,540 a year. After splits of eligible income and 20 per cent average income tax and no tax on TFSA payouts they would have about $5,436 a month for spending. That would cover present expenses of $5,700 a month, less child care, will no long be needed. By the time both are 65, the bridge would be lost but CPP and OAS would begin, pushing their pre-tax income to about $116,000. After splits of eligible pension income and 22 per cent average income tax, they would have $7,450 a month to spend. If they live in southern Canada and have a paid up house, their cost of living might even decline.
Mark and Ilsa have already set up a Registered Education Savings Plan for their son. It has a $2,800 balance. If they add $2,500 a year for about 14 years and obtain the $500 Canada Education Savings Grant for the next 13 years, and then continue contributing $2,500 for three more years they would have a balance when their son is 17 of $65,000 assuming three per cent growth after inflation. That should pay for a first degree at most universities in southern Canada, though not living costs.
"There are many unknowns including where they may live in southern Canada, but with their high rate of savings and one defined-benefit pension, they should do well," Moran says.
(C) 2016 The Financial Post, Used by Permission