Optimism #47 - June 3, 2022
Dear clients and friends,

I am just looking at a situation where a client is trapped in a Manulife Segregated fund for two more years.

They have a letter informing them that the MER fee is rising from 2.85% up to 3.35%. Highway robbery.

I learned something new this week. If the investments created by a spousal loan are temporarily less than the loan value, at the same time the borrowing spouse dies, there could be adverse tax consequences.

I have never experienced this situation, but in such a case, there may not be enough money in the investment account to repay the loan.

The simple solution is to have a clause added to your Wills that says that " …any spousal loans are forgiven." If you have spousal loan, consider having your will quickly redrafted with the additional detail.

June 1st we received our Fortis dividends in time to pay Fortis bill. Fees like the mafia. You can't beat them. You have to join them. At least we are hedged.

If you are seeking information on mortgage rate trends, search Robert McLister in the Globe and Mail. Best I have seen. His articles are published widely online so paywall is not an issue.

Rising interest rates are good in some situations. If you would like to pay out a fixed mortgage but have a penalty, the penalty shrinks as rates rise.

Investors have been moving towards safe stocks like utilities lately, but at a certain point, they run away.

1973 was similar to 2022. Oil, interest rates, everything was going up fast. Inflation and stagflation were everywhere. Utilility stocks remained strong until 1975 and then got whacked. Their cost of debt became too high. I wonder how high interest rates will go?

Here is a real scenario. The client invested about 1.4 million in 2011. They have withdrawn $100,000 per year, one million dollars, over the decade. The value is still slightly higher than the original amount. It is 100% dividend growth stocks with a Canadian bias.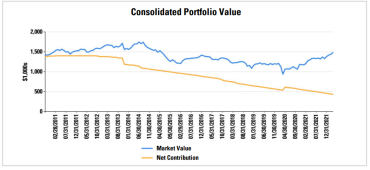 Food for thought. Have a happy Friday.
Derek Moran