Optimism #60 - March 3, 2023
Hello clients and friends and happy Friday.
My lawwwwd what a morning. I spent 1.5 hours on the phone with the BC Government about the Spec Tax Declaration.
I had already spent that much time trying to declare online but the software would not accept my input. I still have no idea why.
My situation is a bit more complicated and worth sharing.
To simplify Estate Planning and avoid probate fees, my parents set up a Joint Partner Trust, and that trust owns his home. (our mother passed away sadly) Probate fees in BC are about $14,000 per million of estate value so they can add up fast.
My brother and I are trustees and
beneficial owners
. Dad is a
beneficial owner
as well.
On title for dad's home, it just says that my brother and I own the property – no reference to the Trust, which legally speaking is incorrect.
The Trust is filed with BC Land Titles office, but I get the sense you would have to dig for it. Lisa, the person we spoke to, was unaware of the Trust even though we were escalated to her once the first person had no idea how to help. Since I appear to own two properties, the software tried to force me to choose one property as my principal residence and pay spec tax on the other.
Moral of the story: if your home is owned by a Joint Partner / Alter Ego Trust, maybe avoid pulling your hair out and just call and ask to be escalated. And if you have a similar situation and are successful with the software, I would love to know.
To me, the most interesting part of my work is investor psychology. What drives our spending?
Attached
is a brilliant article on Morgan Housel, an expert in the area.
Here is a little perspective on what short and long-term investing graphs look like.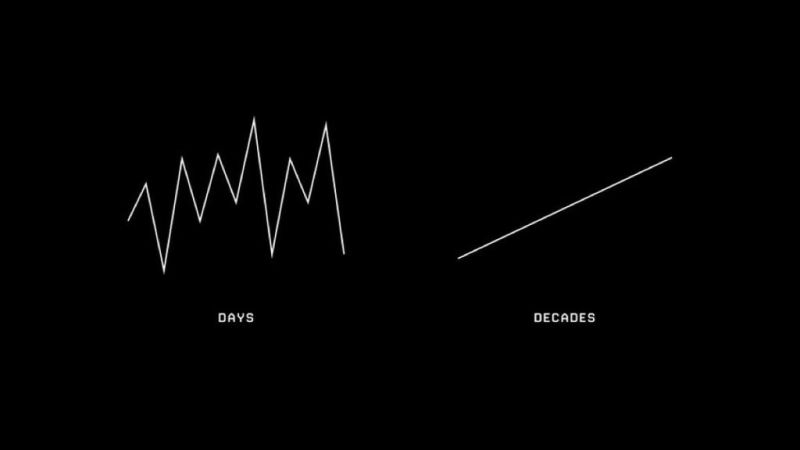 Jessie Yeung and Mayumi Maruyama say that "twice as many people died in Japan last year as were born and that population is in freefall". At the same time, Warren Buffet is starting, after thirty years of not doing so, to invest in Japan. Seems contradictory. Food for thought. Here is a link to the
article.
Rob Campbell, a finance person I follow on Twitter says "if you are car shopping online, don't apply for financing on each of the cars you are considering. It absolutely nukes your credit score." It's a great lesson for our kids.
Warren Buffet's company Berkshire Hathaway recently bought Allegheny, a US-based Property & Casualty insurance company. In his recent letter to shareholders, he writes about the float, money collected in premiums but not paid out:
"With disciplined underwriting, these funds have a decent chance of being
cost-free
over time. Secondly, this part of the company is not recognized on balance sheets." To me that seems like buying a house and finding cash stashed in the walls.
Over seven years and finishing in 1994, he and Charlie Munger bought the last of their 400 million Coca Cola shares. The total cost was 1.3 billion. "The dividend in 1994 was 75 million. In 2023 it was 704 million. We expect these cheques to continue and to grow, and all we have to do is cash them."
The first dozen or so pages are an entertaining low-jargon read and I highly recommend it.
Shareholder Letters (berkshirehathaway.com)
BMO chief strategist Brian Belski reaffirmed his belief in dividend growth stocks as his preferred in investment strategy and he offered a list of dividend growth potential stocks. Word copy of the article is
attached.
I always enjoy John Heinzl's Yield Hog column on the weekend in the Globe and Mail. His February 24
th
article shows that Manulife, BCE, Brookfield Infrastructure, TC Energy, Restaurant Brands (owns Tim Hortons, Burger King, Popeyes, and Firehouse Subs), and Choice Properties REIT (owner of Loblaws & Superstore real estate) raised dividends.
He continues by saying that "growing dividends have another big advantage: They make it easier to live with volatility of the sort we've seen recently. When companies are sending you dividends and raising those dividends regularly, it's a powerful incentive to stay invested through good times and bad. It also reduces the urge to check stock prices frequently, helping you focus on the long term. The
article attached
in word format.
Investors sure don't seem to want to invest in oil companies. Otavio Costa says that "Microsoft still has a higher [value] than the entire energy sector in the US. Exxon alone produces as much free cash flow as Microsoft." I would say that's the smell of opportunity.
Be super careful about buying permanent insurance policies such as Universal or Whole Life. It's extremely rare that I see a situation where such insurance is suitable. Mark McGrath, openly states on Twitter that "if he sells you one with a $100,000 per year premium, he makes $150,000."
The harper government was planning the move the age we start OAS pensions to 67 from 65. The current government reverted it back to 65. There is still information on the internet falsely informing us that it starts at 67.
Have a wonderful March. Spring is almost here.
I'm available if you have questions.
Derek Moran