Optimism #65 - July 6th 2023
Dear clients and friends,
Ben Inker of GMO (An exceptional US money manager including Jeremy Grantham) says " … if I was just going to [invest one way] for the next 100 years – I'd have a quality bias because it's less risky. And unless the world changes, it's not going to underperform."
Thank you, RBC for the chart below. Our dividend growth focus is not glamorous, but it works.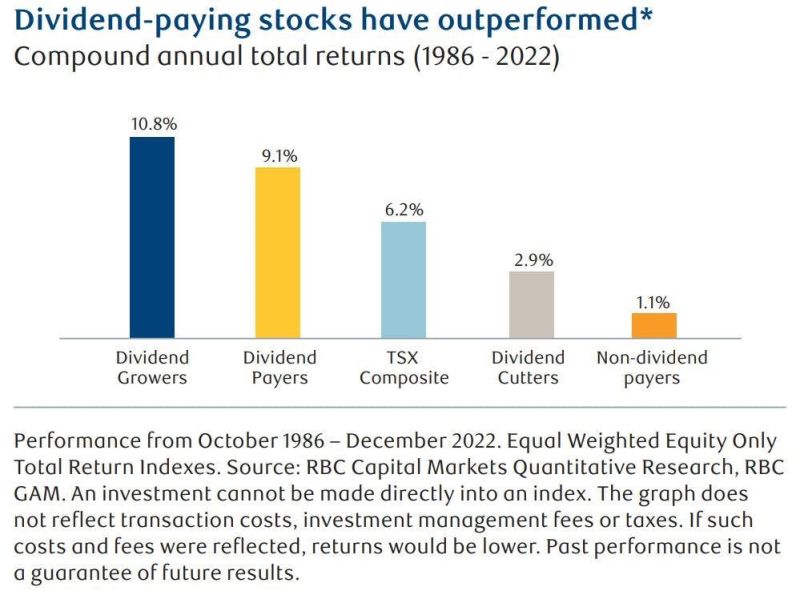 I have the feeling interest rates will be higher for longer than people think. It seems they are trying to squeeze the optimism out of the real estate market hoping to make it more affordable.
Bad for anyone with a lot of debt, good for savers.
According to the Economist on June 26
th
, there is a shortage of air traffic controllers, lifeguards and just about every skill set in demand. This trend has to be inflationary.
Companies that set their prices should be able to maintain their profitability.
Jeffrey Orr, a long-time director at Power Corp (Owner of London Life, Great West Life, Canada Life, Investors Group, Mackenzie Mutual Funds, a cement company, an electric delivery truck and bus maker plus a bunch of other great businesses), bought $800,000 of shares recently. Great company and a dividend yield of about 6%.
Excellent
article
in on the dismal survivor benefit on CPP (Canada Pension Plan) and potential improvements.
Our sincere apologies. Some of you are still unfortunately getting a few spam emails that appear to be coming from Smarter.
They are not coming from us and we can't do anything about it.
We are told they will dissipate over time.
Please delete anything that looks suspicious.
Hopefully the weather is nice where you live, and the sky is free of smoke.
Derek Moran