Optimism #49 - June 16, 2022
Dear clients and friends,
The news is ugly, but our dividends roll in.
Don't sell your good quality holdings.
If you have cash, buy more, but my limited sense says be patient because it will go down more before going on to new highs.
I met with a couple last week.
The good news… he has one Berkshire Hathaway A share (yes Warren Buffet's company) worth about 450,000 US$.
He paid $9,000 (and yes 'he' because at 90 years of age they still keep their accounts separate).
The bad news, he used to have 4 shares, but sold three 20 years ago when he was stressed about the price being too high.
Did the same with thousands of TD shares. I chuckled.
He tries to see the humor in it.
Tamara and I have a spread sheet which I recently updated.
The annual income on our portfolios has increased quite dramatically in the past six months.
Our Fortis Gas bill arrived again. $120.23 for $31.52 of product. What a business.
Thanks to two increases so far this year, Scotiabank's dividend is $4.12 per share per year. The shares are 79$ as I write. That means $4.12/79 = 5.2% yield. Not bad.
The company earns over 8$ per share, so I am not concerned about them being able to pay us $4.12 per year. They can easily afford it.
Since July 1st 1833, they have paid dividends. I don't think they will stop anytime soon.
Banks are traditionally good buys when the yield goes over 5%.
CIBC's yield is 5.05%. It's starting to get cheap.
TD, BMO and RBC yields are still between 4 and 5% but stay tuned.
I will be trimming my shares of Ryan MIC shortly. (keeping the more conservative Manchester ones)
If you hold them I am available to discuss.
When interest rates go down, house values go up. Its been pretty much risk free for lenders since rates peaked back in the early 1980s.
Interest rates are now rising, and quickly, so house prices should soften and home equity will shrink, at least temporarily.
I can't give you advice but can tell you what I'm doing.
If you are curious about the flooding in Kelowna, here is a neat shot of the mouth of the Mission Creek, the largest inflow.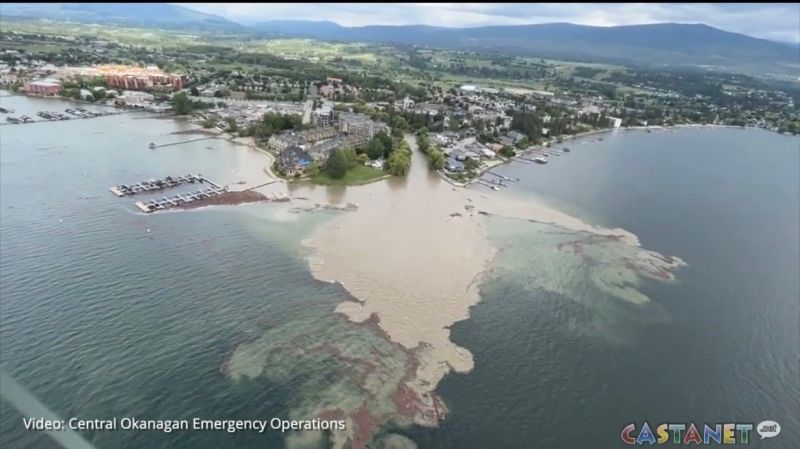 You have likely seen this
article
before I think, but it's a great reminder about successful investing in tumultuous times.
Have a great week.
Derek Moran