OPTIMISM #28 - May 14th 2021
Hello clients and friends,
Happy Friday.
There are many positive & interesting things recently happening worth noting.
Those over age 75 receiving OAS pension will get a one-time bonus payment of $500 plus a boost of 10% overall, bringing the maximum from $7,384 per year to $8,122 or $677 per month.
https://www.investmentexecutive.com/soundbites/economy/oas-changes-should-delight-older-clients
The bonus is apparently not subject to clawback rules and the bonus does apply to those that deferred OAS and receive a higher pension.
If you are a high earner and face clawback, consider deferring OAS to age 71. There is a retroactive 1-year payment option which is not subject to clawback.
For those who won't likely get a dime of this pension, at least you get some.
If you are interested in donating to charity, there is considerable advantage to gifting shares of investments with large capital gains accrued.
Essentially, CRA ignores the capital gain for tax purposes. Moe tax efficient than giving cash. See article attached.
Excellent article attached as well on how dividend growth stocks are well suited to weather inflation.
Insiders are buying at Exco Technologies. Ed Kernaghan, CEO, added a further 1.3 million worth to his account.
Claude Tessier, CFO at Alimentation Couche Tard bought 5,000 shares in April.
At CI Financial, lead Director Tom Muir, bought 25,000 shares.
A year or so ago we noted Heather Reisman buying shares of her own company Chapters/Indigo Books for one dollar and something. Today's close $3.57.
Some investment advisors were sued, get this, for not taking
enough
risk. (The courts rejected it.)
https://www.advisor.ca/news/industry-news/investor-sues-advisor-for-not-taking-enough-risk/
Dividend increases so far this year from Apple, Telus, Metro, Canadian Tire, Atco & Cdn Utilities, Enbridge, Bell Canada, Exco (they make car parts or more specifically molds for parts), Leon's furniture
Intact Financial, Algonquin Power, Cdn Natural resources, Stella Jones, Enghouse, Dollarama, Parkland Fuel, Imperial Oil and many more.
None from our beloved banks just yet, hopefully the banking regulator will permit them this year.
If you don't think inflation is coming, look at this. (Thank you John W. for the chart.) Lumber, copper and other commodities have similar charts.
That would mean higher interest rates. Good for most stocks. Bad for most bonds. Not sure about the housing market.
If you are worried about inflation, owning stocks that churn out a growing stream of cash is a great way to preserve your spending power.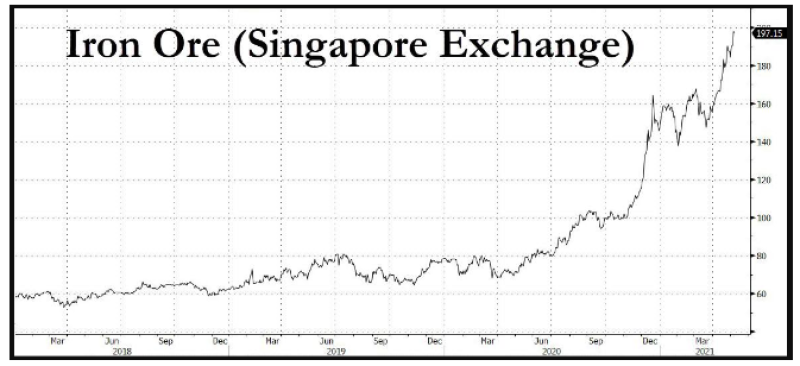 23 and Me, the DNA site told me I have 14% more Neanderthal DNA than average. That explains everything! 😊
Have a great weekend.