OPTIMISM #14 - September 11, 2020
Hello clients and friends,
Another great week. Many dark clouds in the media, but more positive stuff happening.
September 1st. CFO Larry Froom bought $100,000 of H&R REIT.
At Bank of Nova Scotia, Nacho Deschamps, group head of international banking, bought 3000 shares for $127,000 US$.
At Tourmaline Oil, CEO and President Mike Rose bought 5000 more shares for $82,000 to bring his total to over 8.6 million shares.
At Cineplex, Phyllis Yaffe, former chair of the board, purchased 22,200 shares for $209,000.
Pascal Tremblay, a Director at Stingray (internet radio) bought 100,000 shares for $520,000.
Last month I mentioned Heather Reismann, the CEO of Chapters/Indigo buying up her own stock for $1.35 a share. To put in perspective how cheap that is look at this chart. It was about 20$ a share in 2018.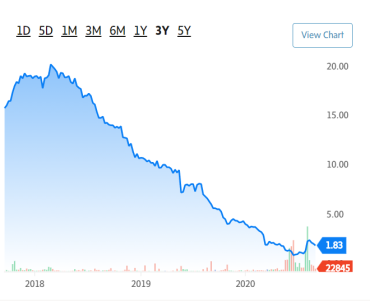 I get all kinds of interesting dividend related emails but this one was particularly so.
In summary:
Canadian dividend payers and growers have averaged a little over 10% rate of return over the last 42 years; non-dividend payers? 0.4%.
(
Why a 42 year measure I don't know
)
Dividend payers and growers out-perform non-dividend payers and dividend payers/growers are less volatile than non-payers:
Here is a link to the full report. Very interesting.
https://dividendstrategy.ca/the-alpha-and-beta-of-dividend-investing/
Happy Friday. Have a great weekend!