OPTIMISM #21 - November 23, 2020
Dear clients and friends,

Not much need to be optimistic as the rebound in share prices is doing it for us.
I believe there is much more upside in banks, pipeline and telco shares among others. We will see. If not, we still get our rising income.
Telus has increased its quarterly payment from 29.125 cents per share to 31.12 cents … an increase of 6.9%.
George Weston increased as well from 52.5 to 55 cents, up 4.8%.
Award winning money manager Rene Fantin was asked to choose dividend winners. What was his first pick? Telus.
https://www.theglobeandmail.com/investing/investment-ideas/article-three-stock-picks-from-lipper-award-winning-fund-manager-rene-fantin/
The Globe and Mail also mentioned that the Canada pension plan has doubled down on its investment in the cruise ship industry. I thought it was optimistic and interesting. These are sharp patient investors.
TD Bank hit $49.01 in March. Now its $69.80, up 42%. RBC is up 47% its low, and BMO an astonishing 70%. Buy the dips if you have extra cash. And don't let the volatility bother you. We still get our income while prices oscillate.
My friend Chuck sent these interesting reminders:
Three charts below show the incredible long term track record of owning high quality dividend paying companies.
Canadian Utilities has paid increasing dividends for 48 years. The current yield is 5.5% with increases expected in future.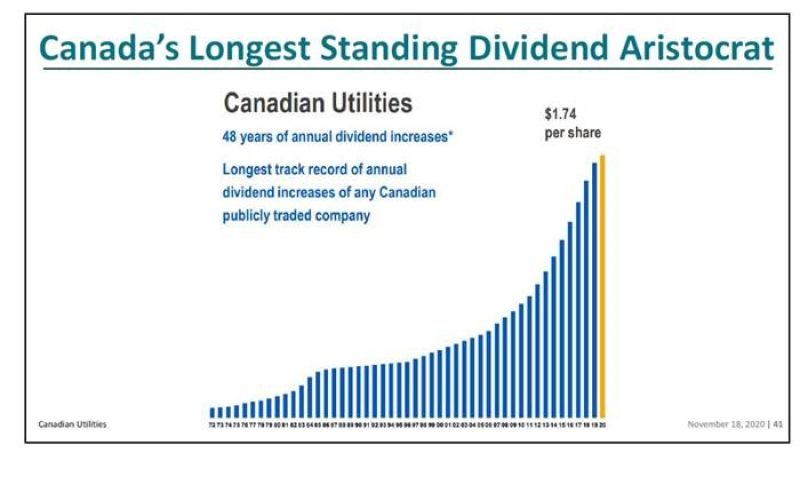 Algonquin Power has increased their dividend by 10% per year over the past 10 years with more increases expected. Current yield is 4%.
Ten percent for ten years means the income, payable forever, has increased 159%.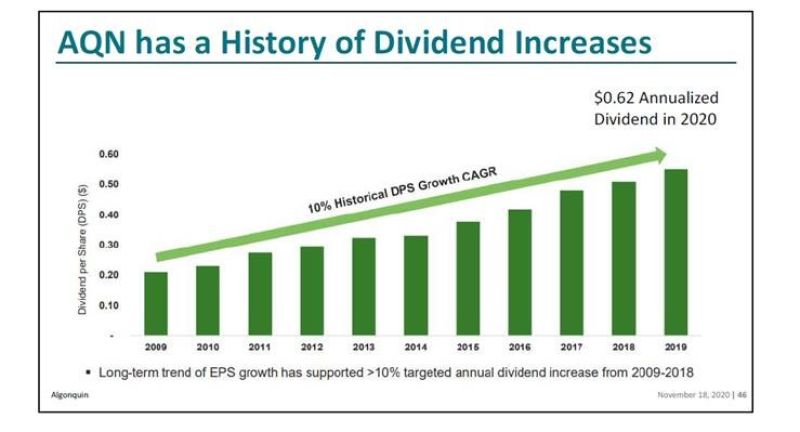 Lastly, Fortis has a 47-year record of dividend increases with more expected and currently yields just under 4%.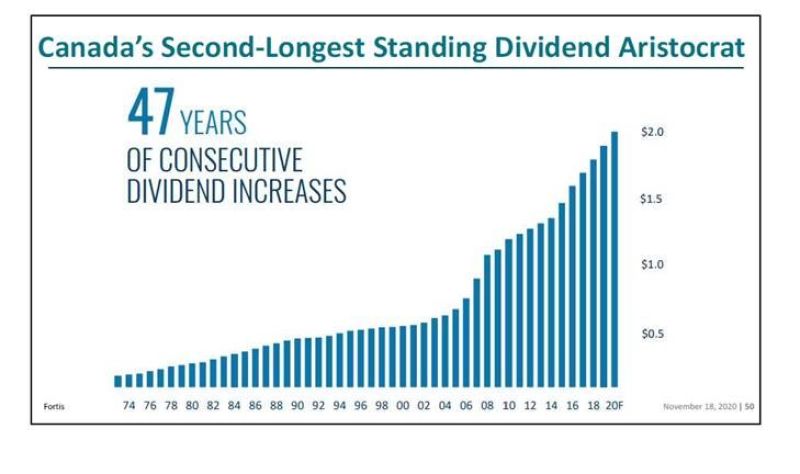 From the
Motley Fool
, April 8
th
, 2020:
Fortis
stock price provided investors with a return of 0% in the month of March. Now before you question why I would even bother writing about it, let's consider the performance of the
TSX Index
in March. It was down 17.7%. That's huge. So while Fortis stock price was pretty much flat in March plus shareholders got the annual dividend yield of 3.49%.
The pandemic market correction may not be over, but don't let the negative headlines bother you. We will remember it as nothing but a buying opportunity.
And if all else fails, remember my story, in about 2010, about not buying RBC when it went from the $40 range to the 50s. I thought I missed it and it went to what… 109$?
Have a super week