OPTIMISM #22 - December 8, 2020
Dear clients and friends,

I was thinking it would be a good idea for us to write ourselves a letter. With special instructions to open when the next market correction happens. While its fresh, tell yourself how you felt, before during and after, what you learned, and in hindsight, what you wish you had done. We forget these details and maybe a personal letter would help keep us sharp at a difficult time.
I read the news and periodically take screen shots of noteworthy details. I was looking for something and found an article from the Globe and Mail from July entitled:
Research Roundup: Stock prices 'living on borrowed time,' says prominent global economist.
That was July 23
rd
. Look at the market since then. Just another reminder to buy quality, hold and ignore the headlines.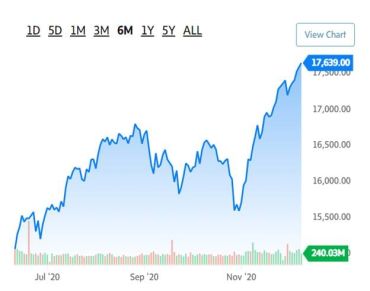 Analysts think bank shares are going higher in the near term. RBC sees potential 'hockey stick jump' in Canadian bank profits and thinks Scotiabank has 20% upside potential. Here is the link. Article attached as well.
https://www.theglobeandmail.com/investing/markets/inside-the-market/article-rbc-sees-potential-hockey-stick-jump-in-canadian-bank-profits/
Its Enbridge investor day. They raised their dividend by 3%. Enbridge is the largest network of pipelines in our hemisphere. They are not in the energy business, but merely transport energy that heats about half the homes in North America.
Great quote from albert Einstein.
"Compound interest is the 8
th
wonder of the world. He who understands it, earns it; he who doesn't, pays it."
Albert Einstein
Only 17 days until Santa comes. Have a great week.