Can She Afford a To-Die-For Kitchen?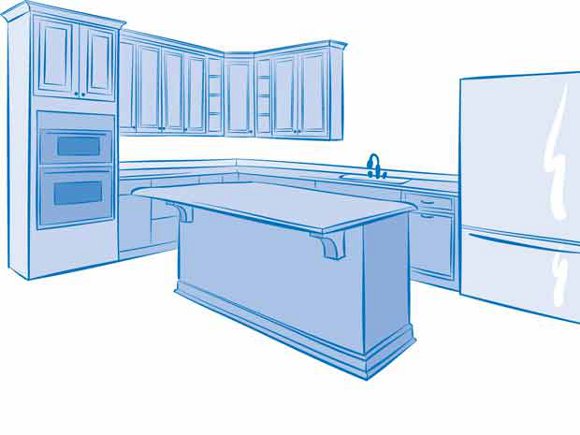 Andrew Allentuck
A to-die-for kitchen with marble counters, wine cooler, a pair of commercial grade ovens, top of the line gas stove, heated stone floors, coffered ceiling and faucets lovely enough to be sculptures would be the fulfillment of a dream for a B.C. doctor contemplating a whopping $200,000 investment.
The esthetics aside, it would be a way to upgrade an old house. Some of the improvements would be structural, some would advance the building and its old wiring and piping into the 21st century and make the place safer. But the question is, even with a gross income of $325,000 per year — take home is $202,000 — can this 45-year-old B.C. doctor's budget handle the cost?
At first glance, there is a problem, for Vivienne (not her real name) has only $93,000 in financial assets. It's all in accessible chequing accounts, a Tax-Free Savings Account and a savings account, but the bill is clearly going to have to be paid with the aid of a bank loan, said Derek Moran, head of Smarter Financial Planning Ltd. in Kelowna, B.C.
The way to pay the bill will be to take $73,000 cash out of non-registered accounts and then to finance the remaining $127,000. Retirement is 17 years away, but she has little to worry about. Vivienne has a defined benefit, indexed government pension plan that will pay her $177,600 per year before tax if she works until she is 62. She has disability insurance paid by the employer and a recession proof income. The only remaining question is her ability to cope with additional loan charges. Currently, without the new kitchen, she pays $3,200 per month. That's an accelerated payment; only $1,900 per month is required, Mr. Moran says.
Adding $127,000 to the $480,000 she already owes on her present mortgage would push the debt up to $607,000. At an interest rate of 2.25%, that loan would cost her $3,581 per month or $42,972 per year. They already pay $38,400 with accelerated payments, so the difference, $4,572, would be additional spending.
Vivienne's present spending out of her $14,800 take home pay is just $7,880 including $3,200 of contributions to her RRSP, TFSA and non-registered savings. She has a margin of $11,600 of potential spending or saving. That margin will easily accommodate payments for the kitchen.
What's more, the kitchen upgrade is likely to add considerable value to the house. And even if in the 17 years that the loan is amortized interest rates were to rise to as much as 8% — that's what they were even as late as the early 1990s — the mortgage cost for the house and the upgrade would be $5,405 per month, still within her present margin of saving, the planner estimates.
So even though Vivienne may not have the cash to pay for the upgrade right now, she has the earning power to afford to finance it. She can turn on the money faucet and order the upgrade, Mr. Moran concludes.
(c) 2012 The Financial Post, Used by Permission